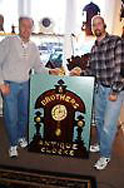 About us
My brother and I started as "Brothers Antique Clocks" in Stroudsburg, PA, in 2006. After about 4 years, I decided to relocate and start this business, here in Blairstown, N.J as Dales Antique Clocks.
I can fix most any clock you have and do it properly. I also replace batteries and oil watches.
I've been in business here in Blairstown, N.J. and I have been doing very well.